Trust Structure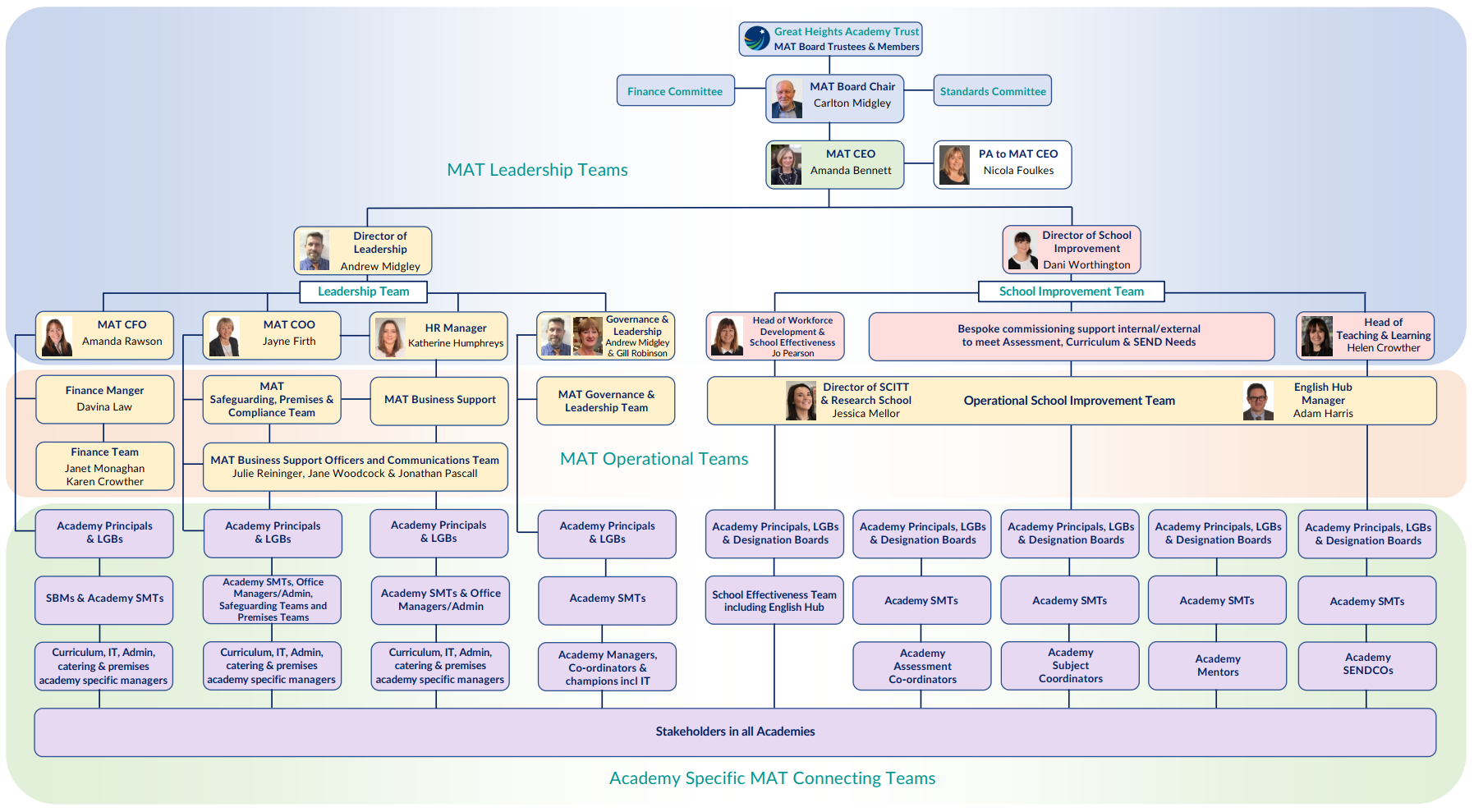 Amanda Bennett is the CEO of Great Heights Academy Trust, an NLE and Executive Principal of The Greetland Academy. She strategically leads a core team of dedicated leaders and managers who run the Trust (formally The Greetland Academy Trust) and mentors current and future leaders across the Trust's Academies: Bowling Green Academy, Carlinghow Academy, Raynville Academy, The Greetland Academy and West Vale Academy. Amanda has enjoyed working at The Greetland Academy (formally Greetland Primary School) and within the Greetland community since 1996. She now spends most of her time on her Trust CEO and Accounting Officer role, supporting and guiding both Trust academies and others in need of support: using her experience to guide developments and support the agreement of bespoke visions and goals to meet to the evidenced needs of children, parents and staff across a wide range of settings.
During her 14 years as The Greetland Academy's Headteacher, Amanda lead the school from successfully serving its local village to becoming a consistently high-achieving, outstanding school. Moving the school continuously forward included Amanda's leadership of its conversion to academy status in 2010, one of the first outstanding converters in the region. Having established effective and robust curricular practices, with strong staffing and management structures, Greetland became increasingly able to offer outreach support to other schools. Driven by the school's desire and preference to be at the forefront of the academic landscape, to lead and benefit from change, Greetland has successfully bid to host and run multiple nationally recognised designations: SCITT (AA Teamworks); Multi-Academy Trust lead school; Research School (the Oldham Research School) and an English hub school (Teamworks English Hub at the Greetland Academy). Further accreditations have included Investors in People status, Arts Mark and regional Pupil Premium awards. The academy has supported many regional and national initiatives, including the 'Effective use of Teaching Assistants' EEF project, RQT targeted support, EYFS projects, Workload initiatives and the Early Career Framework.
Following Greetland's conversion to academy status Amanda has supported other school leaders and Governors through their academy conversions. Having restructured her own trust's business model, she has helped to develop governance and accountability structures within other schools and designations. Amanda contributes locally to forums and boards via the 'West Yorkshire Strategic Partnership' and continues to provide school support and guidance through Greetland's Research School designation within the 'Opportunity Area' of Oldham. Amanda has held the positions in various organisations including being vice-chair and then chair of the Calderdale Primary Headteachers forum. She is a member of the UCL Early Career Teacher Consortium Governance Board, giving input alongside the contributions of Greetland's Research School and makes time to share her experience outside of Great Heights as an active member of the Local Governing Body for Lightcliffe Academy within the Abbey Trust.
Amanda became an NLE in 2013 and a Pupil Premium Reviewer. She has been part of cross-regional school support, including in 'cold spot' areas and areas of high deprivation. She has worked on several Teaching School projects and provided both additional capacity and due diligence work to other MATs. She has provided school to school support for schools in West Yorkshire and most recently supported schools with the national COVID-19 recovery offer, providing case studies of success for the DfE. Amanda has supported supporting network meetings, conferences and induction events for NLEs. As a member of the ESFA Financial Steering Group she has provided system leadership input to this national strategy group.
In recent years, until July 2021, Amanda supported Teaching Schools across Lancashire and West Yorkshire (LWY), being the representative for LWY on the Teaching School Council (TSC). She created and led an effective regional delivery team to support system leaders and Teaching Schools: managing school to school support processes and providing updates and links to national and local priorities. Amanda continues to support the national School Improvement agenda being closely involved in the planning and delivery of NLE national training.
The roles of CEO and Executive Principal are always challenging and ever-changing. Amanda finds inspiration from the positive outcomes achieved by coaching and mentoring stakeholders and partners to reach their full potential and most importantly seeing all trust pupils and staff achieve the same whilst enjoying their time within all of Great Height's schools.
Amanda was honoured to be awarded an OBE in the Queen's New Year Honours list, for her services to education in West Yorkshire, in January 2021.
Jayne Firth is the senior leader responsible for the Trust's corporate and operational functions. Reporting to the Chief Executive Officer (CEO) serving as an integral member of the MAT Team.
She has lead operational responsibility for strategic management and leadership of business management planning of the Trust including HR, Estates Management, H&S, Risk Management, Legal Services & Project Management including the delivery of new academy conversions. Jayne plays a key role in upholding, promoting and modelling the vision and values of the Trust at all times and providing a high level of service to customers. Jayne has worked in education for over 20 years and was enrolled on the first pilot of the Certificate of School Business Management for the National College, attaining this in 2004.
Jayne has supported over 15 schools in their transfer to Academy status, leading a Carnegie Conference for academy transfer for West Yorkshire head teachers and Chairs of Governors. She also leads our local cluster group and has been a mentor of other SBMs. Jayne is an SLE in Academy Conversion and Academy Administration.
Jayne is very used to supporting schools in her areas of expertise including visioning events with staff and Governors; assisting in pupil premium reviews and tracking; full admin staffing audits as well as H&S whole staff training sessions.
Jayne has been a guest speaker at a regional School Food Trust Seminar to showcase how schools could approach the introduction of the UIFSM Plan and has been a member of a strategic group at the Dept of Health led by the Minister for Health on the Obesity Strategy. Jayne has also secured funding for a number of Condition Improvement Fund bids amounting to over £1 million as well as successful bids for Sports England Funding and a number of community grants which have ensured the ongoing improvements to the Trust's grounds and buildings.
Andrew Midgley is an LLE and the Principal of Raynville Academy in Leeds. As Director of Leadership and Governance Andrew liaises with the COO, CFO and the HR Manager to ensure all areas of the Trust are aware of key information and deadlines to ensure all designations can operate safely, effectively and within legal and financial regulations.
In 2016, Raynville (then Raynville Primary School) was found to be requiring improvement with progress and the attainment of children being below national averages. Andrew reorganised the staffing structure, established new meeting schedules, revised the systems for behaviour and attendance, and focused the senior managers and UPS teachers on relentlessly improving the quality of teaching and learning. This rigorous approach resulted in a successful Ofsted Inspection in December 2017, with Raynville judged to be a strong 'good' with an outstanding EYFS. The inspectors noted the increase in attendance, reduction in behaviour issues and significant improvements in results across the school. The results then further improved in 2018 when moderated for EYFS, KS2 writing and at a KS2 SATs moderation by the LA.
Before Raynville, Andrew was seconded from his post of deputy Headteacher in an outstanding school, to become the acting Headteacher of Dean Field Community Primary School, Halifax in 2007. Dean Field was bottom of the league table in Calderdale, had 55 exclusions the previous year and had only 142 children on role. Andrew was made the permanent Headteacher following a successful first year. Within first four years, Ofsted Inspection found Dean Field to be good with outstanding features and by March 2012, Dean Field was in the top 50 primary schools in England for sustained improvement. During Andrew's headship, there were no exclusions, the school was full, with a waiting list and was hosting training for other schools covering inclusion, pupil premium and governance.
Following these successes at Dean Field, Andrew was asked by the Local Authority to support a three-form entry primary school that had failed its Ofsted inspection. He then became the executive Headteacher at a local primary school that had gone into special measures. He supported the school during its transition to becoming an academy and his effectiveness was recognised in the following Ofsted Inspection report. In 2018, Andrew became an LLE following successful results at Raynville and Ofsted Inspection report.
In December 2019, Andrew supported a 'Special Measures' school in Kirklees as Executive headteacher to support their improvement journey and conversion to become an academy. Following this, he was again deployed as an executive headteacher at a school in Calderdale with the same remit.
Amanda has worked within education for seventeen years. She has worked at The Greetland Academy and then for Great Heights Academy Trust since 2011 where she is responsible for all aspects of financial management within the Trust. She is AAT qualified (Association of Accounting Technicians), as well as having successively completed the Certificate of School Business Management via the National College.
Amanda's background includes 11 years as a Finance Manager at Marks & Spencer. She moved into education as the Bursar for the Halifax Excellence Cluster in 2001, which worked with 26 schools in Calderdale 'facing challenging circumstances'. She has been a Governor (including Chairing the Curriculum and Standards Committee) for approximately 12 years and was one of the Members of the Academy Trust when the school converted to an academy in 2010. She also has extensive governing body experience via another Calderdale school, judged to be outstanding for a third consecutive time. Amanda is a designated Specialist Leader of Education. As such, she has been deployed to carry out due diligence checks on schools potentially due to convert to academy status; review the finance operation and structures of a through school; and is regularly utilised to deliver academy peer review external assurance checks, as part of meeting the Academy Financial Handbook requirements. She has also been commissioned by the local authority to deliver training on academy finance and assurance processes to Calderdale governors, as well as participating in sub-groups to support the work of Schools Forum.
She has also actively supported local schools considering the move to academy status, making presentations to their Governing Bodies and, in one instance, also reviewing a maintained school's financial position and the impact that academy status would have on this. As part of the Academy Chain Bursar group she has provided support to other academies on their financial reporting requirements and to their Principals with regard to key financial information.
Nationally, Amanda is part of the ESFA's Academy Financial and Assurance Steering Group; within this role, Amanda Chairs one of the three Working Groups that report into the Steering Group. The particular focus of the Working Group she Chairs is on financial reporting and assurance. This includes oversight of the production of the Academies Accounts Direction, which all academies and their auditors utilise to produce their Annual Accounts.
Dani Worthington is a Local Leader of Education and the Principal of Carlinghow Academy in Batley, West Yorkshire.
Dani has a proven track record in school improvement taking her previous school on a journey from 'at risk of special measures' (as determined by the LA 2015)  to 'good' (OFSTED 2017). The schools she has served have been in areas of high social deprivation with up 60% on the pupils eligible for pupil premium funding. Throughout her teaching career she has worked with many children displaying challenging behaviours, complex needs and mental health issues and is passionate about ensuring all children have access to quality professional support.
In 2020 Dani was invited to Westminster to speak at the All Parliamentary Group launch of The Child Mental Health Charter. She has provided school to school support for schools in Calderdale, Bradford and the East Riding of Yorkshire. Dani has also served as the chair of the North Halifax Primary BACS, the chair of the Calderdale Primary Headteachers Association and has been one the primary representatives on Calderdale's Children's Safeguarding board.